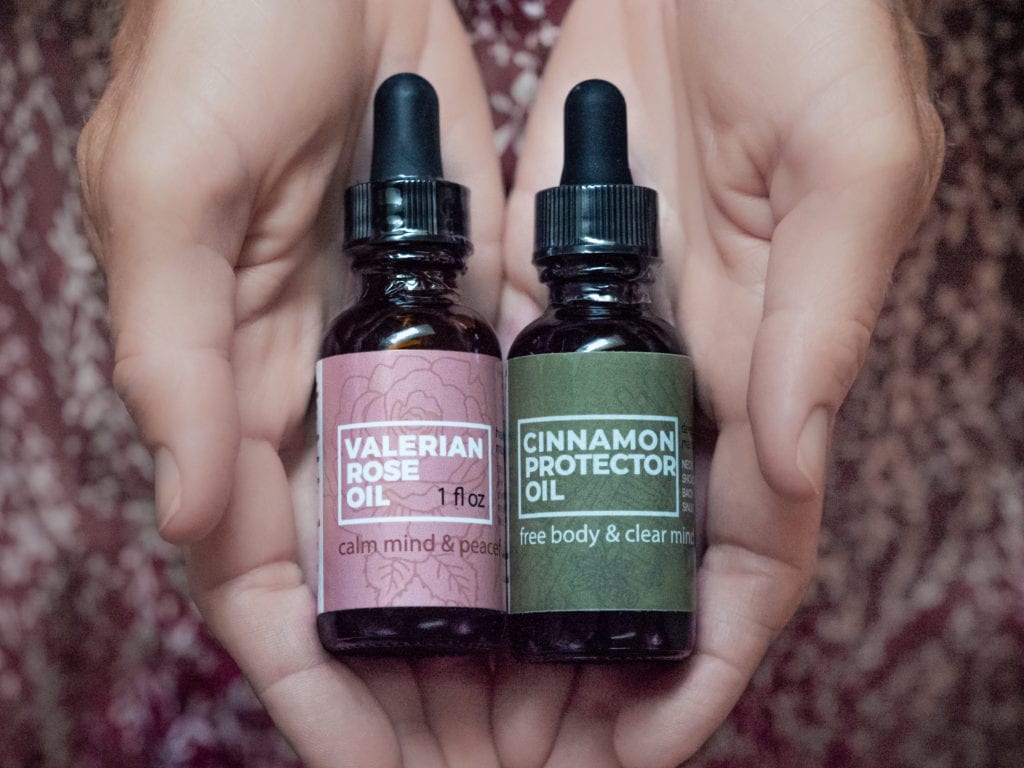 I recently wrote a blog article about Valerian where I talked little bit about the spirit of the Valerian plant. It's such a deep and powerful plant that can go unnoticed, underappreciate and underutilized, but I'm so happy that it made its way into our consciousness and is now a part of what we make and offer to others. I don't know what I'd do without it…truly!
I use it and recommend it others to calm nerves that are a little fried (and for me that's been a lot this past year and half). I use it on my chest, neck, jaw and face at night before bed to soothe muscles that have been in use all day. And I love to use it to spend time one-on-one with my kids rubbing their feet before sleep.
As much as I love the Valerian Rose Healing Oil, I rediscovered my love and appreciation for the Cinnamon Protector Oil this summer on a family vacation to Mexico. We travelled by airplane to Puerto Vallarta with our final destination in Punta de Mita. We had a full day of travel each way when you factor in flying, layovers, security and customs/immigration.
Everything went really well though… all the flights were on time, we got to the airport with plenty of time, we packed what we needed without forgetting anything major (like our passports J), none of us got sick or injured either before, during or after. AND we all enjoyed it! Woah – that's vacation success!
Anyway, I'll come back to the reason why I mentioned Cinnamon Protector Oil. I brought it on the trip and was soooo glad I did. I used it while travelling to help ease the stress of trying to navigate the airport with 6 people (3 generations) to get on a flight at 6:30 AM to another country. Yes, it's true that they've made air travel relatively easy, but it's still no small feat!
By the time we reached our gate, I was feeling unsettled and my muscles were tight in my neck and shoulders. Thankfully the bottle is small enough to go through the security check point and I could use it while waiting to board. Just having the smell of the oil along with it being massaged into my body helped so much. It was unbelievable!
Soon after arriving in Mexico, I remembered about the hot humid climate being a perfect breeding ground for mosquitos. It was another opportunity for the Cinnamon Protector Oil. I used it both for prevention of mosquito bites and to sooth the itchiness. If I was going to spend time outside, I rubbed the oil over areas I knew would be exposed to mosquitos, and if I happened to get a bite, I dabbed a little oil on it to help ease the itch.
Nathalie and I love both oils and created the Oil Gift Set that has a bottle of Cinnamon Protector Oil, Valerian Rose Healing Oil, a mini travel box with both oils in small roller bottles and a rose quartz gua sha tool (perfect for those deep tissue muscle aches). It's a beautiful gift to give to yourself, a friend, or loved one.
I wanted to share my story of using the oils because I think it's important for you all to know that we make things that we love and use on ourselves. Our products really stem from a desire and need that comes from within and that we think will be beneficial for all… so how could we keep that to ourselves! Head over to our shop and get your Oil Gift Set!