Your Plant Medicine Powerhouse for sinus health & fast relief!
Alleviate agitation from pets, grasses, chemicals and mold while boosting your immune system!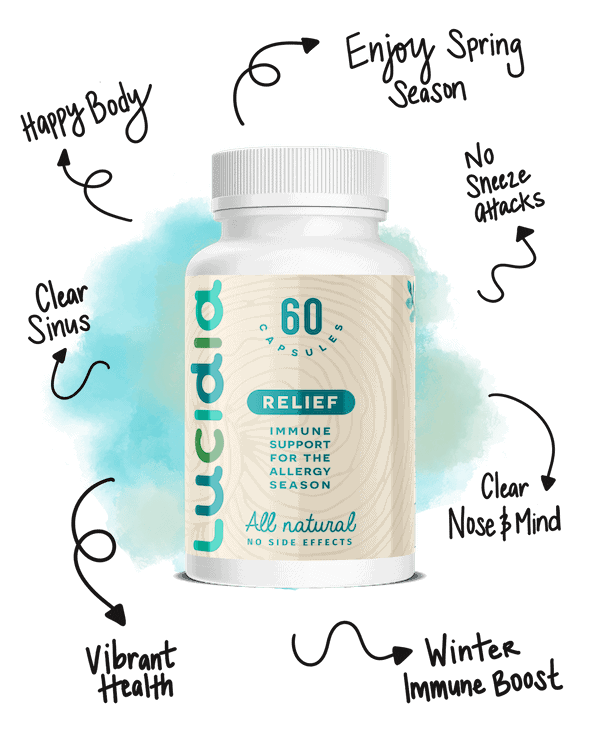 A WIN-WIN FORMULA
LUCIDIA SEASONAL RELIEF
A good-for-you remedy that makes you feel good? Yes, please!
Lucidia – our best-selling seasonal sinus relief capsules – have been carefully crafted to provide fast and natural sinus relief with none of the side effects of common over-the-counter medications. Lucidia was created for people experiencing itching and watery eyes, congestion, sneezing, excess mucus, hay fever or pet allergies. Then we figured, why stop there? Lucidia uses sustainably sourced, U.S. grown organic herbs to also support immune health, improve your liver's detoxifying ability, and help clean your blood and lymphatic system.
See how...
Lucidia benefits your whole body!
BALANCE
your immune system and histamine response
Nourish
and revitalize your blood, organs and immune system
Clean
your mucus and bloodstream for a happy mind, body and spirit
Treat
the causes of allergies, so there's no more sweeping things under the rug
INgredients
ORGANIC REISHI MUSHROOM EXTRACT
Allergy Symptoms, Immune Modulation, Liver Health, Lung Health, Longevity, Nervous System Restoration
ORGANIC FREEZE-DRIED STINGING NETTLES
Immediate Antihistamine-like Effect, Thyroid Support, Nutritional Benefits, Blood and Lymph Cleansing
N-ACETYL CYSTEINE
Liver Detoxification & Protection, Break Down & Eliminate Mucus, Improve Immune Function, Lung Health, Antioxidant
QUERCETIN
Allergy Symptoms, Anticancer, Cardiovascular Health, Antioxidant, Anti-inflammatory
BROMELAIN
Minimizes Sinus Inflammation, Breaks Down & Eliminates Mucus, Digestive Aid