A WIN-WIN FORMULA
LUCIDIA SEASONAL RELIEF
A good-for-you remedy that makes you feel good? Yes, please!
Lucidia – our best-selling seasonal sinus relief capsules – have been carefully crafted to provide fast and natural sinus relief with none of the side effects of common over-the-counter medications. Lucidia was created for people experiencing itching and watery eyes, congestion, sneezing, excess mucus, seasonal irritation, or reactions to pets. Lucidia uses sustainably sourced, U.S. grown organic herbs to also support immune health, improve your liver's detoxifying ability, and help clean your blood and lymphatic system.
| Natural Ingredients | Function | Results Based On Scientific Research |
| --- | --- | --- |
| Reishi Mushroom | Immune Support | Enhances immune system; reduces allergic reactions; supports lungs in asthma & bronchial disease; prevents viral infections |
| Stinging Nettles | Antihistamine | Purifies the blood of allergens; fortifies the blood with minerals, iron and chlorophyll to strengthen the body's resistance & moisturize dry skin; natural antihistamine for immediate relief; cleanses the kidney |
| Quercetin | Decongestant Anti-inflammatory Antihistamine | Reduces inflammation in sinus cavities; inhibits release & productions of histamine; anti-viral; protects against oxidative & free radical damage; breaks down mucous |
| Bromelain | Anti-inflammatory Anti-viral Antibiotic Mucolytic | Exerts anti-inflammatory & anti-allergic activity; potentiates the benefits of quercetin; breaks down mucous in sinus passages and bloodstream; breaks down metabolic waste from undigested food or food allergies |
| N-acetyl Cysteine | Breaks up mucous Antioxidant | Protects the liver and detoxifies it from chemical exposure & oxidation by increasing glutathione levels |
The statements regarding these products have not been evaluated by the Food and Drug Administration. These products are not intended to diagnose, treat, cure or prevent any disease. The information on this brochure is designed for educational purposes only. It is not intended to be a substitute for informed medical advice or care. You should not use this information to diagnose or treat any health problems or illnesses without consulting your pediatrician or family doctor. Please consult a doctor with any questions or concerns you might have regarding your or your child's condition.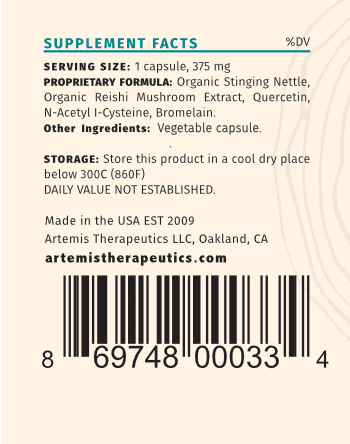 See how...
Lucidia benefits your whole body!
BALANCE
your immune system and histamine response
Nourish
and revitalize your blood, organs and immune system
CLEAR
breakdown mucus for a clear mind, body and spirit
CLEAN
up metabolic debris so there's no more sweeping things under the rug
100% SATISFACTION GUARANTEE
Try our natural immune boost formula risk free! If at any point - for whatever reason - you're unhappy with your new herbal medicine non drowsy just contact us! We'll refund you in full, send you a free replacement, or work with you until you're completely satisfied! Just message us, and we'll take good care of you.
For more details check out our Refund Policy
Understanding Spring Allergies: In order to tackle allergies, it's important to first know what's going on. Spring allergies, also known as seasonal allergies or hay fever, are a common allergic reaction that occurs during the spring season when trees, grasses, and other plants release pollen into the air. For people ... Read More

---

If you're a parent of a little one with allergies, it can be really hard to know what to do. What I'm about to suggest is not a cure-all, but it may help minimize symptoms and/or decrease the amount of allergy medicine needed. Here are 3 "simplifying" ways to help ... Read More

---