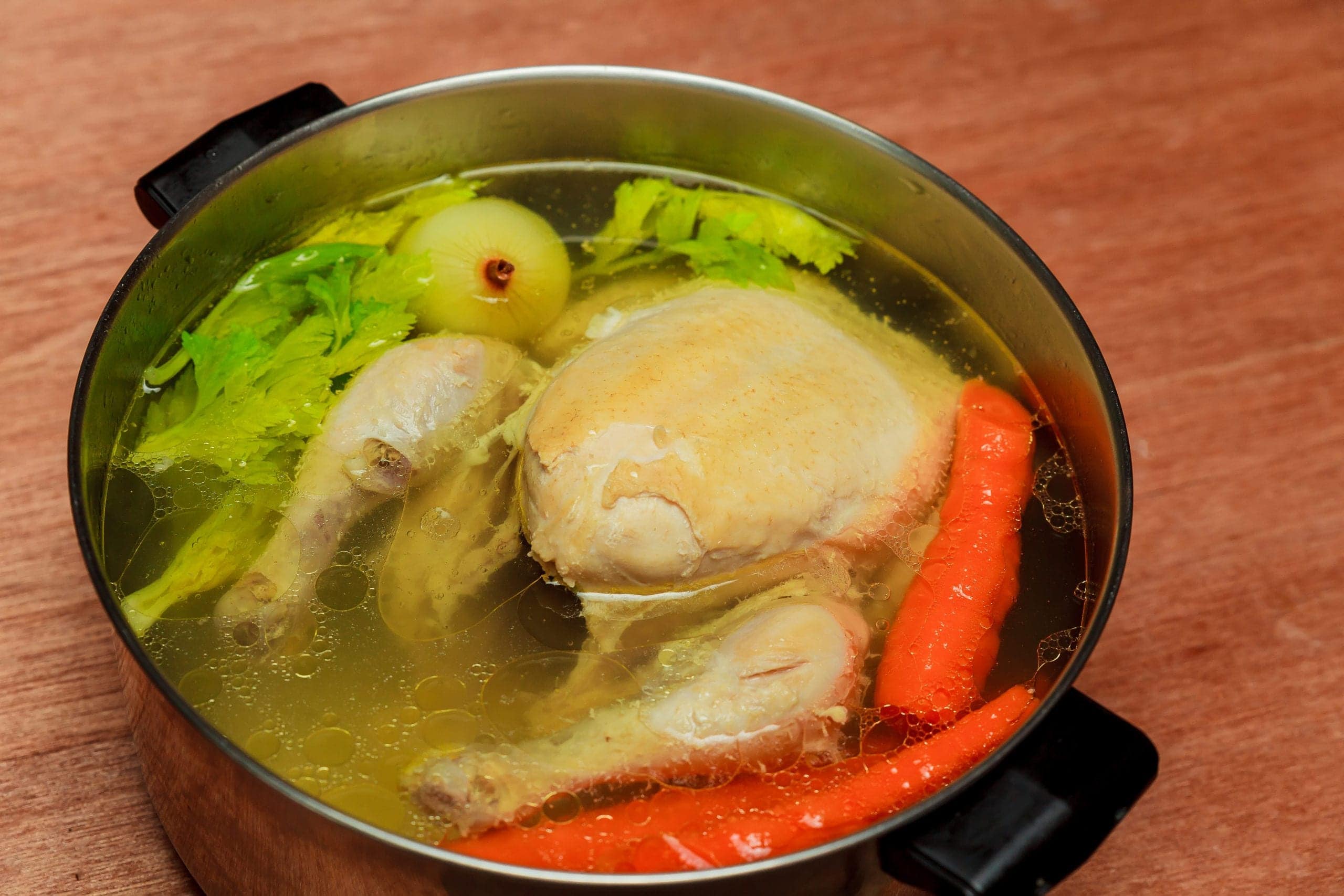 It's easy, delicious, and acupuncturist-approved healthy!
Do you ever get tired of trying to figure out what to eat or make for the kids?  I do. Especially with all the different ideas around diet these days. I want to share this traditional dish because it has helped make life easy for me.  Also the kids really enjoy it and there's food for a few days after.
It's called Abgusht.  We eat it with Basmati Rice.  If you have time, try the Persian way to make the rice, instructions at the bottom.  We also serve the soup with a shared plate of lots of fresh herbs and red radishes. Herbs might be bunch of cilantro, tarragon, and basil, all freshly rinsed and whole leaf.
Ingredients:
1 Whole organic free range or kosher chicken
1 Organic yellow onion
3 T Sea Salt
3 T Tumeric powder
Filtered water
Optional: 2 medium sized white turnips (great for congestion)
Fill a large stockpot ¾ full with filtered water and put on high heat.
Wash the chicken or scrub with sea salt and rinse and put the chicken in the pot.  Water does not need to be boiling yet.
Sprinkle tumeric over the chicken and add salt.
Cut the ends off the onion and remove peel. Put whole onion in the pot.  If you opt for turnips, wash them, cut off ends, and add them now.
Bring water to low boil for 5-10 minutes.  If any scum appears on top of the water, remove it with a big spoon and discard.  Reduce heat to medium low and let cook for 1 ½ hours.
This broth is very easy to digest and delicious. It is especially beneficial if there is cold or flu, too much mucus production, or digestion is weak (get tired, bloated, or congested after eating).  It is very satisfying when trying to reduce or eliminate wheat and dairy. The chicken can be removed from the pot of soup before serving and served separately, and leftovers for sandwiches, tacos or salads for the week. Enjoy!
How to Make Persian Basmati Rice
Rinse rice very well with running water for a few minutes. If desired, let rice soak in filtered water for a few hours before cooking. If no time, simply bring a pot of filtered water with a teaspoon of sea salt  to boil.
Once boiling, put rice in the water.  There must be plenty of water to cover the rice. Leave it on a rolling boil for 5 minutes only. Carefully strain.
Put the pot (safe non-stick is easiest) back on the stove on medium heat.  Add 3-6 T Canola oil and some water. The mixture should cover the bottom of the pot and go up about 1-2 inches. Sprinkle some turmeric powder into the oil and water.
Add the partially cooked rice to the pot. Put a clean cotton dish towel or flour sack between the lid of the pot and the pot when covering.  After 10 minutes reduce heat to low and cook for another 30 minutes or so–until the bottom layer of rice is slightly burned. This is tadiq and is delicious and crunchy.  If you want to use saffron, put some in a cup with ¼ cup water to start to extract into the water. When you turn the heat down to low, drizzle this water with saffrom over the rice.
After 30 minutes, rice should be finished. Taste to make sure or smell if the bottom is burning. Turn the whole pot over into a big bowl to contain the rice, and the tadiq should be a round crispy rice.  Pieces can be eaten with soup and rice. Bon Apetit!